SECOND SEMESTER: 1/5/18...
Review of Major Class/School Rules...
1. You must be in your assigned seat by the bell or you will be marked tardy...entering the room at the bell or after is considered tardy-DO NOT stay and talk with teachers placing you tardy for my class..
2. There will be no talking without permission or sidebar conversations with students
3. No cell phones are allowed in my class at any times, unless specified for a lab...Referrals will be written if phones go off or they are seen on a test.
4. Safety is paramount...Dissections and activities predispose students to accidents and never horseplay or not adhering to directions.
5. Grades will not be discussed in e-mails and ALL grades are earned...
6. You must raise your hand to ask a question-never to shout in the room as this disturbs other students requiring quiet environments.
7. Dress codes will be adhered to per school policy...
8. Cheating will result in automatic zero on assessment and referral-this includes wandering eyes, talking, and/or using cell phones or notes...
9. No eating or drinking without professional courtesy: only capped bottles, closed containers, etc...If I reward you with a snack, respect the privilege...
10. Disrespect, bullying, or defiance in my classroom will not be tolerated...All students
must earn respect and treat others as young adults in this learning environment.
11.
***Forgetting your name on any coursework/assessments will be an automatic zero-you should know the rituals and routines-name-date-pd on every paper upper right corner...since first day of school...
***This 2nd Semester will be extremely rigorous and more demanding with the remaining body systems, CPR and Dissections...Pace will be fast and ultimate study and review daily is encouraged to be successful...You MUST come to class prepared and on time!
DO NOT THROW ANY NOTES AWAY, JUST PUT THEM ASIDE AND START SEM 2!
PLEASE DO NOT E-MAIL ME ON WEEKENDS OR HOLIDAYS!
Thursday-1/18...CW
...Ch 11-The Endocrine System...
***You need to know all the hormones on page 299 and those added in class for Friday quiz...
HW:
Ch 10-11 quiz-25q = 50 pts...
Podcast 8-The Senses-JJ of Pd 4.MP3
Wednesday-1/17...CW
: Color Blindness...Who gets it??
Ishihara test involves colored plates...
***HW
: preview ch 11-Endocrine system...know difference between exocrine and Endocrine glands!
The mother's father is colorblind as he passes on the X gene to the mother...she is a
'CARRIER' for colorblind only passing it down to her sons...
The colour blind 'gene' is carried on one of the X chromosomes. Since men have only one X chromosome, if his X chromosome carries the colour blind 'gene' (
X
) he will be colour blind (
X
Y). A woman can have either:-
(i) two normal X chromosomes, so that she will not be colour blind or be a carrier (XX),
(ii) or, one normal X and one colour blind carrying
X
chromosome, in which case she will be a carrier (X
X
), or rarely
(iii) she will inherit a colour blind
X
from her father and a colour blind
X
from her mother and be colour blind herself (
X
X
). She will pass on colour blindness to all of her sons if this is the case.
Table 1
A colour blind man and a non-colour blind woman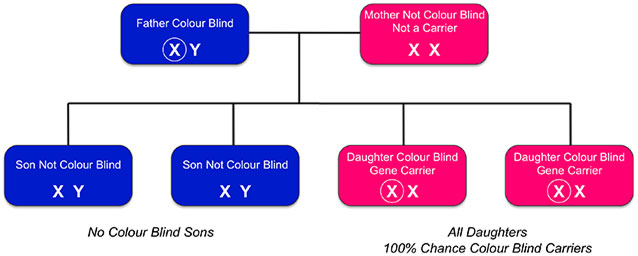 Table 2
A non colour blind man and a colour blind carrier woman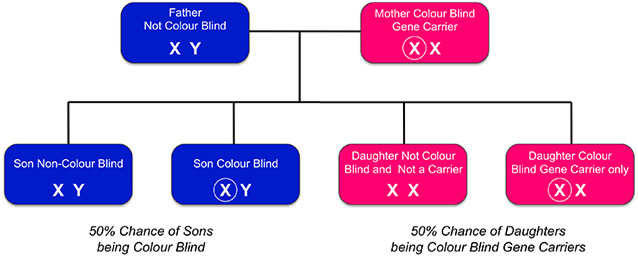 Table 3
A colour blind man and a colour blind carrier woman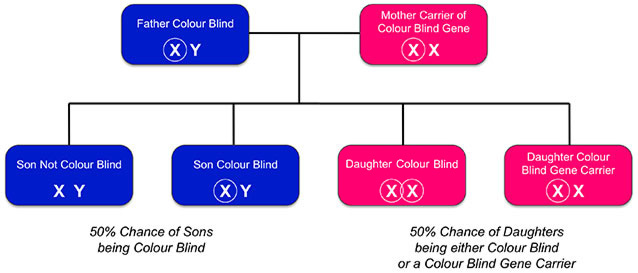 Table 4
A non colour blind man and a colour blind woman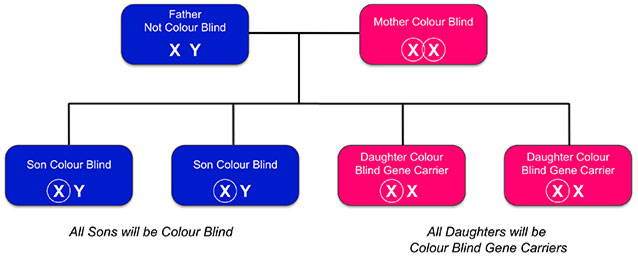 Monday-1/15.
..MLK day- no school...
Tuesday-1/15...CW
: Visual acuity...Snellen eye chart...
***Color Blindness...What is it, who gets it and Katman's DALTONISM...
Make-up quizzes...
HW: review eyes in text p. 276-285 and stay ahead!!
FRIDAY-1/11...CW
: cH 10 Quiz 1....20Q = 5o pts...
***If you are in a Pd 2 class meeeting, your quiz will be Monday!!
Wednesday-1/10...CW:
Using an Otoscope skill...Must have watched and reviewed the videos on this page to be safe and be awarded credit...
***National Science Honor Society at pd end for applications...
***Here are the 2 video links from today...
Looking at earwax on eardrum(tympanic membrane)
https://youtu.be/FiLLWaSPgvg
The Drs. tiinitus...https://youtu.be/ju6afbjuZEs
Otoscope activity = 5 pts...must be in class and on time...
Thursday-1/11...CW
: The Eyes anatomy and Physiology
refer to text p. 276-284...
short video and eye model...
***HERE IS THE VIDEO LINK ON THE EYE FROM TODAY...
Quiz vocab...
Accommodation
: adjusting the lens curvature
***Here are some links to help in 'differentiated learning' playing simple games and repeating as necessary...Try them all and improve your comprehension...
https://www.purposegames.com/game/anatomy-of-the-human-eye-quiz
https://www.purposegames.com/game/13c377e357
https://www.purposegames.com/game/ear-anatomy-quiz
https://www.purposegames.com/game/705
TRY QUIZLET.com...Find me as Katman 3...
***Class meetings: Pd 2-Juniors, Pd 3-Seniors-conduct, grades, credits, discipline....Be professional and attentive...
***Common eye problems/disorders...watch this video to become familiar with common eye problems...I will ask you about these on assessments...
https://www.youtube.com/watch?v=SNZ0Nb2VzSI
Monday-1/8...CW
: Smell,Taste, and Touch...2 Special senses...you should have finished watching the intro video from class and completed the WS at home over the weekend...
***National Science Honor Society short presentation...
***Below are video links from today on Olfaction and Gustation...
Smell...https://youtu.be/snJnO6OpjCs
Taste...https://youtu.be/0hwOL91cjwM
Olfaction
= sense of Smell...
***The Cribriform plate is porous, filled with holes that allow axons to connect with each other, thus producing the sense of smell...
***Most of what you taste has to pass by the 'olfactory bulb'...when you have a cold, you can't taste food the same...
Gustation...Taste...Sweet-sour-Salty-Bitter-Umami
The PTC Gene
Phenylthiocarbamide
(
PTC
), also known as
phenylthiourea
(
PTU
),
has the unusual property that it either
tastes
very bitter or is virtually tasteless, depending on the
genetic
makeup of the taster. The ability to taste PTC is often treated as a
dominant
genetic trait, although inheritance and expression of this trait are somewhat more complex.
Usually, 75% can taste it, 25% can't and some can a little.
***Know where the 5 tastes, incl bitter are on your tongue.
Tuesday-1/9...CW:
The ear
anatomy and physiology-
Short video...Textbook Reference p. 269-271...



Hearing = AUDITORY/ACOUSTIC
***Cranial Nerve VIII...Vestibulocochlear nerve
Watch these videos today for 'using an otoscope' activity tomorrow...
***Here is the video link on Anatomy of the ear...
https://youtu.be/YR1tq1Lcb0o
***Here is a video link How to use an Otoscope
https://youtu.be/b80LyZRZOFY
***Here is a video link on Cerumen(earwax)
https://youtu.be/s0VjebxhyTg
***Here is a video link putting tubes in the eardrum...
https://youtu.be/66rQwocHahI
***Otoscope and Speculum(Eartips)
To check ear for Cerumen(earwax) and/or infection...
Outer Ear-Pinna or Auricle...from earlobe to eardrum(Tympanic membrane)
Middle-auditory ossicles: malleus, incus and stapes(smallest bone-stirrup and hammer, anvil, stirrup old names), Eustachian tube, oval window......
Inner: Semicircular canals(equilibrium), cochlea, round window...
vestibulocochlear nerve ...VIII
Friday-1/5...CW:
Guest presentation...
Former student with tips for the future...