***REMEDIATION FOR HONORS STUDENTS IS A PRIVILEGE EARNED...A GRADE MADE-UP MAY NOT EXCEED 70% FOR A SECOND EFFORT ON FORMATIVE OR SUMMATIVE ASSESSMENTS. FULL CREDIT WILL NOT BE EARNED AT THIS LEVEL EXCEPT FOR FIRST TIME ASSESSMENT. MAKE-UP ASSESSMENTS WILL BE DIFFERENT THAN ORIGINAL ASSESSMENTS.
Is anatomy and physiology a difficult course to take in college?
'Not if you have the rigorous foundation from a demanding high school teacher like Katman'-no pain...no gain...
04-15-2015 at 8:29 am in College Life
Next semester I am taking anatomy and physiology and my academic advisor told me that it is the most difficult course to take. Is this true? What do the topics consist of? I go to a community college.
So much depends on the school and teacher, but generally A&P is indeed a very difficult subject that requires a tremendous amount of brute memorization. In many cases you will dissect an animal (a cat or fetal pig) and be required to find and name virtually every part of the anatomy on sight. Generally they will start by going through each of the body's systems and learning the parts of the body and the functions of each. It is quite a difficult task for some...others who have had really good life science classes find it a bit easier, but almost all feel a bit overwhelmed with learning so many different terms.
jlsstudent96Registered UserPosts: 12New Member
I'm hopefully going to major in Nursing and it's a required course also for the program, and I'm at a four year school. I am taking it over the summer at my local community college because my academic advisor said although it is a hard class to take anywhere, I'm better off taking it at a community college. It's generally a hard class I've been told, no matter where you take it, but it may be more rigorous and challenging at a four year. Just make sure you register for a class with a good professor that will explain the material throughly and just study a lot. That's the advice my sister gave me when she took the class. Good luck!
NewBeginnings3Registered UserPosts: 387Member
My cousin took anatomy and physiology a while back, and she told me that it was hard. Most of the course deals with memorization, so if you are not good at memorization, then it could be a bumpy ride. Like the others have said, the level of difficulty depends on the professor and you. The professor could make the class easier or harder. You have to be willing to devote time to memorizing all the material repeatedly. What may benefit you is if you form a study group with fellow classmates.
MandalorianRegistered UserPosts: 1,186Senior Member
It's mostly memorization, but you get to use your body as a cheat sheet on the exams.
MONDAY-3/5...GO TO CH. 16...RESPIRATORY SYSTEM...
Friday-3/2...CW
: Ch 15 Summative test...20Q = 100 pts...
Grades posted 3/9...
HW:
always stay ahead...Nect chapter 16: my specialty-Respiratory System...
Podcast 16-Dig system-J.M. Pd 4.MP3
Wednesday-2/28...CW:
Pancreas and Liver...
Hepatitis A-B-C-D-E-last day for oral quizzes...
10Q pop quiz...
HW:
always review ch 15 text, webpage and notes...
***You can not be successful without preparing for class- Reviewing daily is Homework...
***Hepatitis video: https://youtu.be/eSb-zIPY7gQ
Hepatitis is an inflammation of the liver. It may be caused by drugs, alcohol use, or certain medical conditions. But in most cases, it's caused by a virus. This is known as viral hepatitis, and the most common forms are hepatitis A, B, and C.
Sometimes there are no symptoms of hepatitis in the first weeks after infection -- the acute phase. But when they happen, the symptoms of types A, B, and C may include fatigue, nausea, poor appetite, belly pain, a mild fever, or yellow skin or eyes (jaundice). When hepatitis B and C become chronic, they may cause no symptoms for years. By the time there are any warning signs, the liver may already be damaged.
You can get it through contact with the blood or body fluids of an infected person. In the U.S., it's most often spread through unprotected sex. It's also possible to get hepatitis B by sharing an infected person's needles, razors, or toothbrush. And an infected mother can pass the virus to her baby during childbirth.
***
Series of 3 shots-1st, then 2nd 1 month after, 3rd 6 months after...
Thursday-31...CW:
Happy March 1st...
Dietitian Nutrition Menu activity...
Dietitians have been hired for class tomorrow...
***Sedentary(inactive)lifestyle: women:2000 calories.
:men: 3000 calories
***Govt on nutrition states no more than 30% of your food should come from fats...your menu ws was up to 97%...
***1 gm of fat = 9 calories
***1 gm of carbs = 4 calories
***1 gm of protein = 4 calories
***total calories = calories from fat + calories from carbs + calories from protein...
Conversions/total calories = a decimal...form a percent by moving 2 places to the right or x 100...then round to nearest whole number...
ex. .234 = 23%, .347 = 35%...
HW
: Friday summative test on ch 15...20Q = 100 pts...
Podcast 15-Digestive System-NS pd 4.MP3
Monday-2/26...CW
: Make-up quizzes from Friday...
Digestive system video, cont'd...
HW:
Always stay ahead...review EACH day!!
***Oral pop quiz on Food Flow through digestive system- 1-2 min. for grade-only 1` chance so practice and review!
Tuesday-2.27...CW
: salivary Gland and Teeth Anatomy...2 short videos...
***Salivary Glands video:https://youtu.be/dQFbO7abetY
***Teeth video:https://youtu.be/s6tdiDDpxkQ
Oral Food through Dig system quiz-2 min. or less...
HW:
always stay ahead with text and webpage...Participation Rules! Probable quiz tomorrow...
Tuesday-2/27...CW
: Salivary Glands and teeth...
Oral quizzes on path of food through Digestive system- 2 minutes or less...random times nof periods-be ready by being prepared!!
HW
: always stay ahead with text and webpage...
Salivary Glands below...
Parotid-in mouth near earlobe
Sublingual-under tongue
Submandibular-under lower jaw
canine (also called cuspid)
- the pointy tooth located between the incisors and the premolars. A canine tooth has 1 root. Adults have 4 canine teeth (2 in the top jaw and 2 in the bottom jaw). Canine means, "of or like a dog."
incisors
- the front teeth, used for cutting food. An incisor has 1 root. Adults have 8 incisors (4 in the top jaw and 4 in the bottom jaw).
premolars (also called bicuspids)
- the teeth located between the canine and the molars. A premolar tooth has 1 root. Bicuspids have two points (cusps) at the top. Adults have 8 premolars (4 in the top jaw and 4 in the bottom jaw).
molars
- the relatively flat teeth located towards the back of the mouth, used for grinding food. Molars in the top jaw have 3 roots; molars in the lower jaw have 2 roots. Adults have 12 molars (6 in the top jaw and 6 in the bottom jaw).
Pd 2 Digestive Summary.MP3
Friday-2/23..CW:
.Ch 14-15 quiz-25 pts...
HW:
always stay ahead...PARTICIPATION RULES...Ask questions and answering questions will add to your success...
Wednesday-2/21...CW
: Ch 14 Lymphatic system pop quiz...
Intro to Ch 15-Digestive System...Video link below...
Dig System video: https://youtu.be/v2V4zMx33Mc
HW
: Watch entire video and take notes on it...
Thursday-2/22...
Sub today...Digestive video...
HW
: Quiz every Friday...It will be given as scheduled...Ch 14-15...
***Vocab will be added continuously...keep up with words added at any time...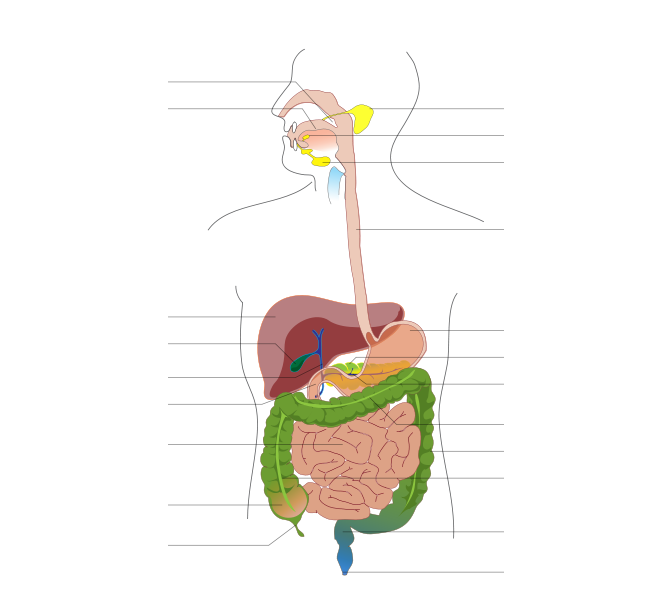 ***Facts to remember:
***Hepat = liver, gastro = stomach, cholecyst = gall bladder
*** cholesterol in bile forms crystals in gall bladder = gallstones
***know teeth types and location
***know salivary glands and location
***know calorie conversion
Calorie Conversion WS Podcast.MP3
Eating Disorders Pd 2 Podcast-KG.MP3
Below are the vieo links from today...
https://youtu.be/O71niTozP-o
https://youtu.be/wqYIax7uzR8
Nutrition: 6 Groups: https://youtu.be/CiOBhgxdhYo
Grams to Calories conversion chart...
1 gm protein = 4 calories
1 gm carbs = 4 calories
1 gm fats = 9 calories
% = part/total
Digestive system Intro Podcast 1.MP3