WEDNESDAY:9/20...AFTER pH...GO TO CHAPTER 3...
Tuesday-9/19...CW
: Macromolecules(text p. 41-47)
4 classes: Carbohydrates: C-H-O...ex. glucose, sucrose
Proteins
: C-H-O-N...all made up of amino acids...ex. phenylalanine, glycene, arganone...they end in
suffix-ine..
.
Lipids(Fats)...C-H-O...ex. suffix ends in ol...made up of fatty acids-ex. glycerol, cholesterol...
Nucleic acids(DNA-RNA)...C-H-O-N-P...consists of sugar, phosphate and nitrogen bases(Adenine-Thymine, Guanine-Cytosine).
HW
: Review text and check webpage
***Video shown on dog's sense of smell...1000 times greater than a human...cats hearing is greatest...
OLFACTION: sense of smell...
Wednesday-9/20...CW
: 2 Topics today...
1. pH...know how this is applied to your body...
2. Ch 3-Cells
H+: Acids: increase in H+ ions
OH...Bases(Alkaline)...increase in OH- ions
Know the pH scale and what numbers are higher-lower acidity and higher-lower alkalinity...
***FACT TO MEMORIZE...pH of BLOOD: 7.35-7.45...
Here is the video link on acids, bases, and pH from today...https://youtu.be/A_URRb5mk5Q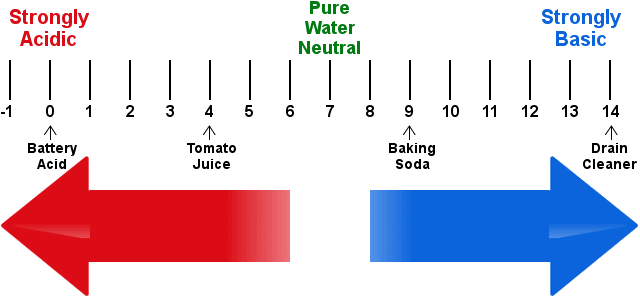 Monday-9/18
...
Today we will slowly incorporate you back into class as our natural disaster may still be affecting some of you with no electricity, a/c, roof, etc...
We will pick up where we left off...Hopefully, we all persevered the storm and are resuming normalcy...
***If you DO NOT have computer access for any reason-YOU MUST TALK WITH ME-so we can implement a strategy for being successful...
]\***We will practice balancing equations one more time which is on quiz Friday...To the right is the practice WS with answers from today...
Starting tomorrow:
***We learn how to complete video notes -Macromolecules...Above is a link to what we will do in class tomorrow-copy and paste-...
https://youtu.be/OOc3zEgLLtk
CW
: Macromolecules-Carbs, Proteins, Lipids(Fats), and Nucleic acids(DNA)...
Carbs = C-H-O Proteins =C=H=O=N
Lipids = C-H-O
Nucleic acids...
Monday-Friday-9/11-9/15.
..No school due to Hurricane Irma...
Friday-9/8...CW
: NO SCHOOL....BE SAFE!!!SEE YOU NEXT WEEK...
Wednesday-9/6...CW
: How to Balance chemical equations...it's a math game of numbers and symbols...
***Vocab to know: 1. Coefficient
2. subscript(atoms)
3. Reactants
4. Products
All it involves is what I call 'cross multiplication of coefficients x subscripts...You cannot get it unless you practice-practice-practice...
Example:
H
2
+
O
2
→
H
2
O...
The box is a beginning way to identify where coefficients go...YOU MAY NEVER ADD OR CHANGE A SUBSCRIPT...ONLY A COEFFICIENT...
____ Na +____ I2 ® ____ NaI
***It is an invisible '1' that is always a coefficient but we NEVER write a 1-it is understood...
Below is a VERY BASIC video link to help you get started!
https://youtu.be/gskm-dfKv5g
https://youtu.be/UGf60kq_ZDI
Below is the video I showed in class...
https://youtu.be/gskm-dfKv5g
Here is a GREAT aid to help you with the possible quiz coming...Play the game below...
http://education.jlab.org/elementbalancing/
Thursday-9/7...CW:
Balancing chemical equations cont'd...You must review and be prepared fore any sudden or spontaneous quiz...
DON'T FALL BEHIND'!
Examples for tomorrow...
Don't let the parenthesis scare you...whatever is in there just multiply by the subscript outside of it...This class is going to grow in rigor and you must find study habits that work best for you...More effort = greater rewards...
The video link below should be watched before class-this constitutes homework-you are to have 30 minutes of homework in every class minimum per county policy...
FAILURE IS NOT AN OPTION....MY STUDENTS PERSEVERE AND ARE SUCCESSFUL...
Mg(NO3)2 + ____ K3PO4
®
____ Mg3(PO4)2 + ____ KNO3
Monday-9/4.
..Labor day- no school...
Tuesday-9/5: CW:
Make-up tests...always longer and different than original...
"
Why chemistry is important to the study of anatomy and physiology may not be obvious if you're just looking at your body as a collection of organs. But all the cells in your organs are composed of chemicals, and chemical reactions are involved in all of your body's movements and cycles. Chemistry explains how your cells produce energy and proteins, why you breathe and have blood and what sorts of foods and vitamins are important for nutrition. With a basic understanding of chemistry, you can understand why your organs function the way they do and how the systems of your body work together."
***4 Major elements in our body by percentage:
Atoms---Molecules---Elements---Compounds---Mixtures
Atoms composed of a brain(nucleus), protons-neutrons...around the atom are electrons...
***Quick review: protons have + charge
Atomic # = number of protons
Atomic Mass(Wt) = protons + neutrons...
Below is Atomic structure video from today
...WS is below but will not be graded...WS is for review/reinforcement unless specified otherwise...
Balancing Chemical Equations: Here is a great step by step link....
http://www.wikihow.com/Balance-Chemical-Equations
Left of the arrow are called Reactants...Right of the arrow are called Products...Know these!!
Click the following link for an easy, beginner's Balancing worksheet:
http://sciencespot.net/Media/blncact.pdf
***Here are great video links to help you further...
https://youtu.be/oDVswHfZJzY
https://youtu.be/8ARlABEfPhQ