AFTER TUESDAY, 10/10...GO TO CH 7: THE SKELETAL SYSTEM...
Podcast 4-Katman Skin Burns.MP3
Monday-10/9
...
CW
: Planning day: 1st Quarter Grades posted...No school...
Tuesday-10/10...CW
: Skin Burns-1st, 2nd, 3rd degree burns...
Short video.. link is below...
LISTEN TO MY BURNS PODCAST ABOVE!
https://youtu.be/bVJ94OeOtOM
Let's review planner again for 2nd Quarter....
"No breaks first 5 min and last 5 min of class...
'Don't be tardy-we have quizzes and projects at the bell'...
'Participate-ask questions and answer questions'...
HW: always review...PSAT tomorrow...
Friday-10/6...CW:
Ch 6 and earlier quiz-last grade of 1st Quarter...Listen to the class podcast below!
HW: Always review text and check webpage...Enjoy your 3 day weekend...
***Differentiated Instruction...The podcasts below are very helpful as a study regimen for all level learners...Download them to your ipod and listen to them throughout the day and even on the bus...You may even want to make a podcast...
Pd 4-DeAyndria and Micaela Podcast 3-Integ System Part 2.MP3
Javon-Pd 4-Integ System Podcast 2.MP3
Wednesday-10/4...CW
: Finish labeling the Integumentary system and introduce the hair and nails...
HW: Review appropriate text sections and always check webpage...
Thursday-10/5
...CW: Skin and Hair Diagrams completed...Diagram completed for a grade...
HW: Final grade of 1st Quarter tomorrow...
***Video link on skin disorders below...
https://youtu.be/HjT_WZgbzVE
Skin cancer:
Benign-doesn't spread, non-fatal-needs to be removed
Malignant-fatal-spreads (called Metastasis)!!!
Eczema below-caused by??????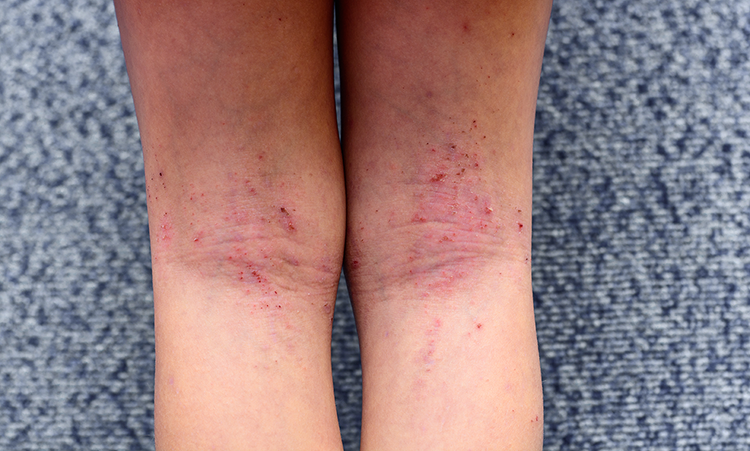 Tuesday-10/2...CW
: diagram of integ system.....
3 Layers: Epidermis...Dermis...Hypodermis (adipose fatty layer)...
Epidermis: dead skin-hair-melanocytes-keratinocytes...
***Stratum granulosum and stratum germinosum are interchangeable names for the same 3rd layer on quiz...
Dermis:?????????????
Hypodermis?????????????
https://youtu.be/8v_YeDkrR9c
HW: read ch 6 and check webpage...Increase your study time to 1 hour if you are having trouble with material....
Bedsores:Decubitus ulcer-in dermis to dermis from not turning patients who have poor circulation...Know this!
For Diagram on Wednesday: Draw and Label the following:
In Dermis: Pacinian Corpuscles: pressure receptors
Meissner's Corpuscles: touch(tactile) receptors
Arrector Pili Muscles: produces goosebumps on skin
Papillary and Reticular Layer-one is superior to the other...
In Hypodermis (same as Subcutaneous): Adipose fat tissue...
BE PREPARED TO LABEL NAILS AND HAIR ON THURSDAY! DO NOT 'COPY' MY PICTURES BY PASTING THEM...
The objective in this Anatomy class is to build a body knowing structures-functions-and their location...by drawing them and memorizing 'EVERY' System...
memorization is aN INTEGRAL ROLE IN aNATOMY CLASS...
https://youtu.be/1xHqW1Vh7TM

***All Students: Read the page on Skin Cancer
(p. 121)...The mildest form of skin cancer from epidermal cells is called Basal Cell Carcinoma)carcinoma = cancer)...That is the type I have on my head: Know for test-it does not metastasize...Then the next serious one is squamous cell and the worse one-metastatic melanoma...bad news...
FOR HAIR LABELING: Know Hair Shaft, Hair Root, Sebaceous Gland, Arrector pili muscle, hair follicle (follicle surrounds the root)...
The hyponychium is the area of epithelium, particularly the thickened portion, underlying the free edge of the nail plate on the nail.
***The Toe below is identical to fingernail anatomy:
Know: Nail plate-nail bed Eponychium(cuticle) Nail root, Matrix, Lunula, Free Edge
Monday-10/2:...CW
: Happy October...
Make-up quizzes today...
Intro to Integumentary system (skin)...short video and layers of skin...
HW: read ch 6 text and always check webpage...
Below is video link from today...Watch it...
https://youtu.be/8v_YeDkrR9c
**Try Quizlet for amazing memory games and my study flashcard sets...It is for 'student memory retention.....My user name is katman 3...let me know if I can help you with it...
Key vocabulary:
Keratin: waterproof protein in epidermis produced by keratinocytes- keeps the skin moist...
Melanin-pigment of skin color produced by Melanocytes in bottom epidermis...
Tactile (Touch) receptors-in Dermis
Vascular: Blood vessels in dermis
Avascular: Without blood vessels
Adipose: fat tissue(Subcutaneous)
Sudoriferous (Sweat) glands-Dermis
Sebaceous (Oil) glands-Dermis
Dermal Papillae (Fingerprints) in Dermis
Arrector Pili: Muscle in Dermis that causes 'Goosebumps'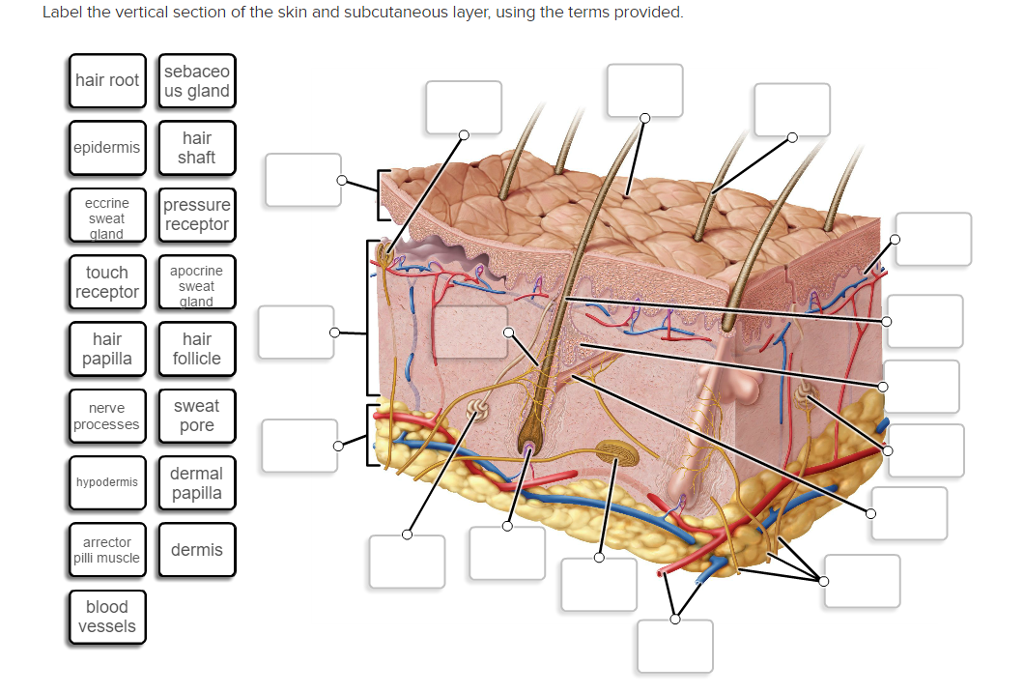 Pressure receptors: Pacinian corpuscles
Tactile: Meissner's corpuscles
Sebaceous glands-oil
Sudoriferous glands(sweat): 2 types:
*** Apocrine-Eccrine
Apocrine glands develop in areas abundant in hair follicles, such as your armpits and groin, and they empty into the hair follicle just before it opens onto the skin surface. When your body temperature rises, your eccrine glands secrete fluid onto the surface of your skin, where it cools your body as it evaporates.
***The thickest layer of the epidermis is the stratum spinosum-layer 4...
If you wish to stay ahead, here are Dermis layer structures we will add tomorrow:
1. Arrector pili muscle(Goosebumps)
2. Sebaceous(oil) gland
3. Sudoriferous (sweat) glands
4. Hair Follicles
5. Nerve cells
6. Meissner corpuscles(tactile) receptors
7. Dermal papillae(Fingerprints)
8. Papillary layer(near epidermis): loose conn. tissue
9. Reticular layer: lower dermis of dense connective tissue
10. Blood vessels-arteries, veins , capillaries