13 Tips For Studying Anatomy More Effectively
Full article: https://easy-anatomy.com/13-tips-for-studying-anatomy-more-effectively/
2. Start Early
3. Repetition Repetition Repetition
4. Switch it up
5. Get Creative
6. Take Clear Notes
7. Understand Your Learning Style
8. Use Memorization Tactics
9. Work in Groups
10. Stay Motivated
11. Quiz Yourself
12. Focus on Your Weak Points
13. Take Advantage of the Resources Available to You
Quizizz class codes...
Pd 1...https://quizizz.com/join?class=B268859
Pd 2...https://quizizz.com/join?class=S325466
Pd 3...https://quizizz.com/join?class=M462034
Pd 4...https://quizizz.com/join?class=Z100389
Pd 6...https://quizizz.com/join?class=I232717
***There is ALWAYS a time limit so if assigned, it must be completed by 5:00 p.m. during the week.
Friday-9/20...CW:
Ch 1 and 2 Summative Test...
Now the assessments will be very rigorous and comprehensive...Study groups help...
***Pep Rally today...Schedule is above...
HW
: Always Review and read ahead to Ch 3.1 for Monday...
Know for Test: 33Q = 100 pts
1. Body Planes
2. Regional Terms
3. Macromolecules
4. pH
5. Prefixes/suffixes(ex. ist, osteo)
6. endocrine/exocrine glands(tears = lacrimals)
7. Chemical equations
8. 4 Tissue types
9. Cancer
10. Karyotype
***Watch for spelling erors(silent g etc)...
Wednesday-9/18...CW
: Make-up quizzes...
Epithelial and Connective Tissue...
Epithelial Classification:
Layers-Simple vs Stratified...Shapes-Squamous, Columnar, Cuboidal...
Simple = 1 layer of cells...
Stratified = more than 1 layer...
Videos from today: https://youtu.be/mpH0DHHQ2cs-above.
Connective tissue: https://youtu.be/2yzEcqleZbs
HW: Read p. 68-72...Complete watching class videos...
Always review and check webpage at least twice daily...
***Recommended study time-30 minutes to an hour/day...
***Text p. 71: MEMORY TIP...Know these!!
***prefix osteo = bone...chondro = cartilage...hemo = blood
--blast, --clast, --cyte...know these suffixes...
ex. osteocytes are bone cells...
ex. osteoblast are bone producing cells...
ex. osteoclasts are bone destroying cells tol repair them...
***Pop Quizzes may occur at any time without notice!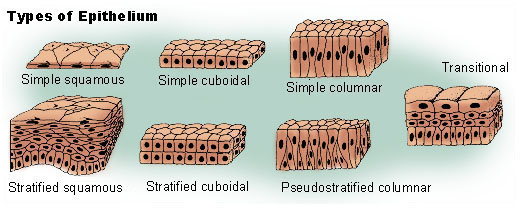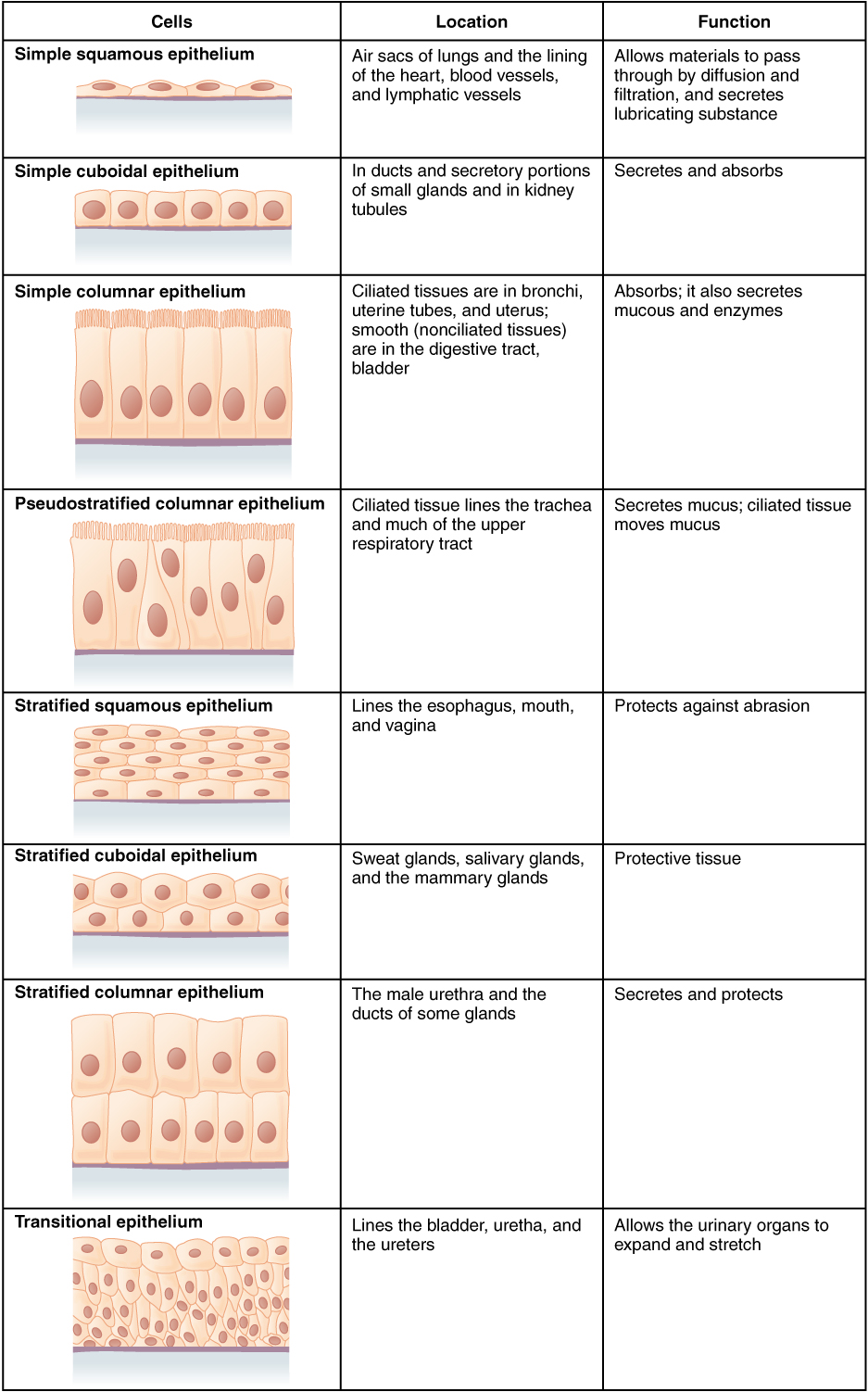 MEMORIZE
***Ligaments connect Bone to Bone...
***Tendons connect Muscle to Bone...
***Adipose Tissue = Fat...usually yellowish orange
Thursday-9/19...CW
: Muscle and Nervous Tissue...
***More drawings to create as learning tools...
***Today's videos: Muscle tissue is above...
Nervous tissue...https://youtu.be/NsBaPtemAjs
HW
: Ch 1-2 Summative test...100 pts...
Always review to stay ahead and check webpage at least twice daily...
Notice Striations(striping) and nuclei......
***Voluntary muscle-under conscious control-Skeletal muscle...
***Involuntary-not under your control...Cardiac and Smooth...
***Neuron: nerve cell
***Glial cell...a supporting nerve cell
***Axon...carries impulses away from cell body(soma) to cell...
***Dendrite...carries impulses towards the cell body(soma)...
Monday-9/16...CW
: Make-up quizzes from Thursday...
Cancer: Uncontrollable cell growth and division...
***Basic cancer video from today is above...
Benign vs. Malignant Tumors
One is known as benign and the other as malignant. A benign tumor is a tumor that does not invade its surrounding tissue or spread around the body. A malignant tumor is a tumor that may invade its surrounding tissue or spread around the body.
***
A
tumor
is a mass of tissue that's formed by an accumulation of abnormal cells. Normally, the cells in your body age, die, and are replaced by new cells. With cancer and other
tumors
, something disrupts this cycle.
Tumor
cells grow, even though the body does not need them, and unlike normal old cells, they don't die.
Carcinoma
is a type of cancer that starts in cells that make up the skin or the tissue lining organs, such as the liver or kidneys.
***Carcinogen: factor or substance that cases cancer...
***Melanoma:
pigment-producing cells—known as melanocytes—mutate and become cancerous.
***The two most common kinds of skin cancer are basal cell carcinoma and squamous cell carcinoma,
***Basal Cell: about 90% of all carcinomas-rarely metastasizes...
***Squamous Cell:Rarely spreads but may metastasize more than basal cell...
***Katman fact: his skin cancer is Basal cell....
Basal cell carcinoma
Squamous cell carcinoma
Melanoma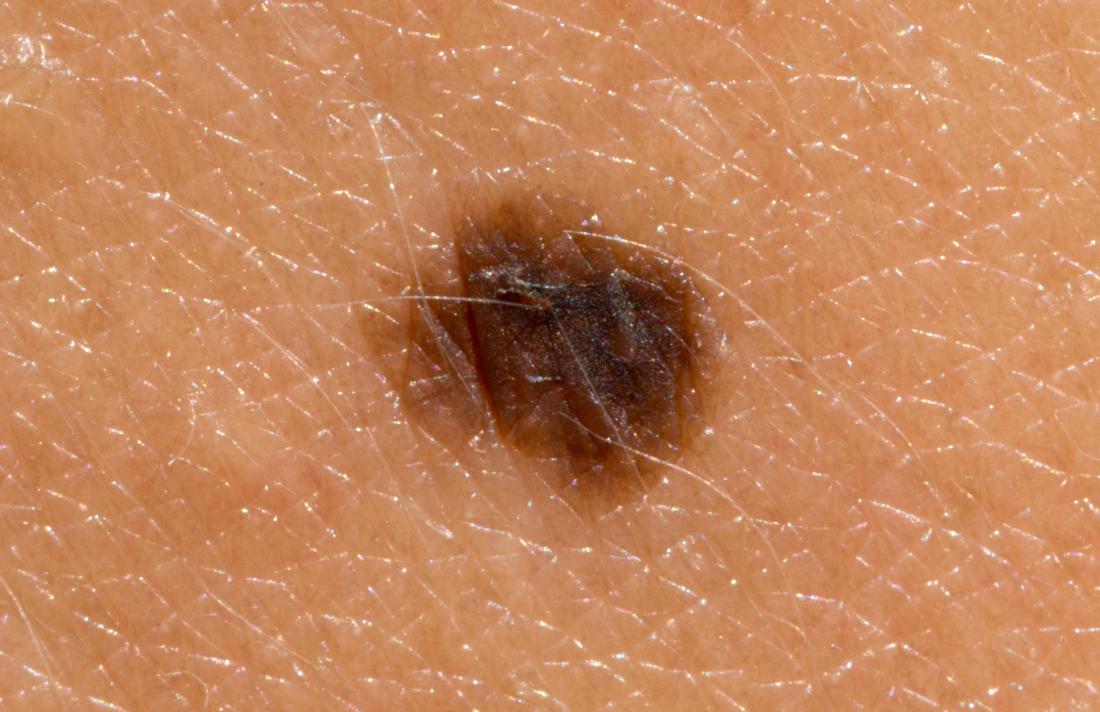 ***Metastasis: the spreading of cancer from 1 area to other areas...
Tuesday-9/17...CW:
Tissues: Groups of cells..Remember the sequence:
*** Video link from today:
https://youtu.be/tKWTJ3_-1E8
***Organelles-Cells-Tissues-Organs-Organ Systems-Organism...
***Histology: The study of tissues...
***Histologist: medical professional who studies tissues
HW: Read Ch 2.3-p. 64-67-Epithelial tissue functions as a 'Covering'...Finish video...
A quiz can happen at any time on any material covered thus far...
***2 Types: Simple = 1 layer
Stratified = more than 1 layer
There are four main types of
tissue
: muscle, epithelial, connective and nervous. Each is made of specialized cells that are grouped together according to structure and function. Muscle is found throughout the
body
and even includes organs such as the heart. Our outer layer of skin is epithelial
tissue
.
4 Types: Epithelial,Connective, Muscle, and Nervous...
Students will learn Epithelial structures first and draw the cells on paper to reinforce the terms
Simple and Stratified.
..
***Simple Epithelium = 1 layer of cells...
***Stratified Epithelium = more than 1 layer of cells...
Why chemistry is important to the study of anatomy and physiology may not be obvious if you're just looking at your body as a collection of organs. But all the cells in your organs are composed of chemicals, and chemical reactions are involved in all of your body's movements and cycles. Chemistry explains how your cells produce energy and proteins, why you breathe and have blood and what sorts of foods and vitamins are important for nutrition. With a basic understanding of chemistry, you can understand why your organs function the way they do and how the systems of your body work together."
***4 Major elements in our body by percentage:
N...Nitrogen


***Here is a BIO review of DNA and RNA...Students are 100% accountable for all content. on this webpage..
https://youtu.be/0Elo-zX1k8M
Ch 2.1 Key Vocabulary
-expanded as we go...
1. Amino acids
2. Carbohydrates
3. DNA
4. Fatty Acid
5. Glucose
6. Lipids
7. Nucleic Acids
8. pH
9. Proteins
***New Remediation Help and Practice...https://quizizz.com...sign up for a free account...Look for Katman Anatomy quizzes...Quizlet, Edpuzzle and now Quizizz...all for you...for FREE!!
Friday-9/13...CW
: Make-up quizzes....
Mitosis: 4 Phases with mnemonic P-M-A-T...
***Cell cycle WS is above from today...Always complete-You never know when I will collect it for a grade!
***Each phase is easy to remember if you associate a first letter with their characteristic:
Prophase: chromosomes in nucleus...
Metaphase: chromosomes move to the middle of cell...
Anaphase: chromosomes move away or apart from each other...
Telophase: two daughter cells are formed...
***Cytokinesis: division of cytoplasm... WORD POWER...
***Diploid: Two cells each with 46 chromosomes...
***Haploid:
Half
of the chromosomes = 23(Meiosis)-half from mom(23) and half from dad(23) = sex cells...
Video resumed....10 Extra points if your parent signed in to Open House...
HW:
Always review Webpage...it gets updated twice daily and always on Sunday...
Complete Mitosis Ws for Monday...Always complete WS-You never know when they will be collected!
Ch 2.2 Pertinent Vocabulary
1. Chromosome
2. Chromatin
3. Chromatid
4. Centromere
5. Cell Cycle
6. Interphase
7. Mitosis
8. Cytokinesis
9. Meiosis
10. Nucleus
11. DNA
12. Cancer
13. Karyotype
14. Diploid
15. Haploid
16. Centriole
17. Spindle Fibers
Wednesday-9/11...CW
: Ch 2.2-Cell Cycle...video and detailed explanation of Chromosomes, Mitosis and cell division...
***Watch the video above -it is a basic mitosis video different that what you will watch tomorrow...
Chromosome Structure
-2 Sister chromatids held in center by Centromere...
***Dogs have 39 prs...
***Cats have 38 pairs...
Karyotype- a chromosome map...23 Prs. chromosomes = 46 chromosomes...
drawn from large to small...
***Last pair(23rd) are sex chromosomes...XX = Female, XY = Male
***Cell Cycle(Ch 2.2)...
The
cell cycle
, or
cell
-division
cycle
, is the series of events that take place in a
cell
leading to duplication of its DNA (DNA replication) and division of cytoplasm and organelles to produce two daughter
cells
.
***S Phase: Synthesis Phase(DNA Replication)
***COMMIT TO MEMORY:
I
nterphase is the phase of the cell cycle in which a typical cell spends most of its life. If, we consider that the total event take place about 24 hrs. then the interphase is of 23 hrs. Interphase can also be thought of as lasting for 90% of the cell's life, while Mitosis usually lasts for 10%
***Textbook sec. 2.2... p. 60-63...
*** Mnemonic- P-M-A-T ...I = Interphase is NOT a phase of Mitosis but prepares for cell division
***CYTO prefix = Cell
***
Mitosis
is a process of nuclear
division
in eukaryotic cells(have nuclei) that occurs when a parent cell divides to produce two identical daughter cells.
***COMMIT TO MEMORY:
Mnemonic # 3: P-M-A-T...
Prophase-Metaphase-Anaphase-Telophase...
***INTERPHASE IS NOT A PHASE OF MITOSIS!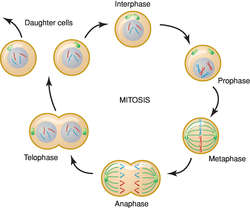 ***DO NOT CONFUSE MITOSIS WITH MEIOSIS:
***Meiosis will be explained in detail in the last Ch. 15-Reproduction-it involves the sex cells
***Cytokinesis
:
the cytoplasmic division of a cell at the end of mitosis or meiosis, bringing about the separation into two daughter cells.
Thursday-9/12...CW
: Ch 1-2 Formative Quiz...
This quiz was moved to today to accommodate Open House hours...
Sign in on the appropriate period sheet with parent...10 pts extra credit for signing in...No penalty if can't make it...
***1 volunteer needed for each period to help parents sign in and locate my room!
Let me know by Thursday in class...
Pertinent Information for Thursday Formative Ch 1-2 Quiz...(requested by student-M.M.)
1. We always include past material to incorporate throughout the year, ex. Regional terms...
2. Macromolecules: Monomers, structural formulas, suffixes, mnemonics(CHO, etc...)
3. pH-acids and bases(H+ and OH-)
4. Stoichiometry-Balancing Chemical Equations
5. Bonus Question- ANYTHING Discussed In Class...
Sample Quiz: Mitosis
Monday-9/9...CW
: Make-up tests...
Pop quiz as announced Friday...All students 100% accountable per 7 Mindsets...
Stoichiometry-Balancing chemical equations...short video and Ws practice...
***Here is a GREAT aid to help you with the Balancig Equations...Play the game below...
http://education.jlab.org/elementbalancing/
Balancing Act practice WS is above for absentees and students wanting to stay ahead!
Podcast 5-pH-G. Yonash-Pd 2 (1).MP3
Tuesday-9/10...CW
: pH...scale from 0-14...
Acid: donates H+ into solution...
Base(Alkaline): accepts OH- into solution...
Neutral: H2O pH 7...
***pH blood: 7.35-7.45
***Sample problems to engage your senses...
***
A hydrogen ion, H
+
, is the same as a(n):
***An unknown substance is added to a solution and the pH increases. The substance is:
***Which pH solution is 100 times more acidic than solution that has a pH=5?
e. pH 3
***Below is pH video
from today...
https://youtu.be/Xkrgw2CFwRs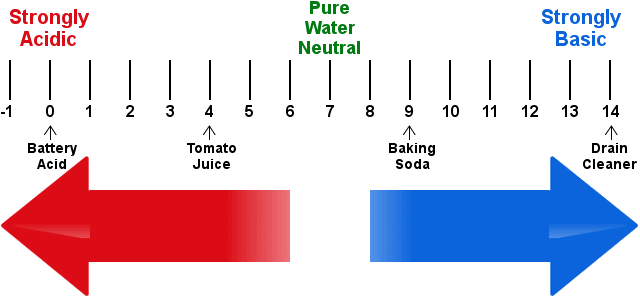 ***Know the pH of stronger/weaker acids and stronger/weaker bases...
EX. stronger acid towards 0 and weaker towards 6....stronger bases(more alkaline) towards 14, weaker towards 8...
Friday-9/6...CW
: Make-up Tests...Ch 2 Introduction...Macromolecules...
HW
: read ch 2.1 text...Use text as a guide but webpage always has more reinforcement...
Dates to remember:
9/12...Open House-6-8 p.m. ..10 pts to sign in with parent...
9/13...Interim-is your grade up to the class standard at this point??
***Participation is an integral part of this course...Ask questions...
Hw
: read ch 2.1...Check webpage...
Macromolecules(text p. 38-50)-large molecules vs Micromolecules(small molecules)
MONOMERS
: Building Blocks of Macromolecules
2 short videos...
4 classes: Carbohydrates: C-H-O...ex. glucose, sucrose
Proteins
: C-H-O-N...all made up of amino acids...ex. phenylalanine, glycine, arganine...they end in
suffix-ine..
.
Lipids(Fats)...C-H-O...ex. suffix ends in ol...made up of fatty acids-ex. glycerol, cholesterol...
Nucleic acids(DNA-RNA)...C-H-O-N-P...consists of sugar, phosphate and nitrogen bases(Adenine-Thymine, Guanine-Cytosine).
HW
: Review text sec. 2.1and check webpage...
Carbs = C-H-O (end in ose) Proteins =C=H=O=N
Amino acids all end in
ine
Lipids = C-H-O
Glycerol (fatty acids end in

ol

)
Nucleic Acids-CHONP
***Practice WS above...
An unbalanced chemical equation lists the reactants and products in a chemical reaction but doesn't state the amounts required to satisfy conservation of mass.
For example, this equation for the reaction between iron oxide and carbon to form iron and carbon dioxide is unbalanced with respect to mass:
Fe2O3 + C → Fe + CO2
The balanced equation is:
2 Fe2O3 + 3 C → 4 Fe + 3 CO2
HW: Read sec. 2.1 text and check web page twice/day..
Complete Balancing equation ws-Do not quit before you try!
Video above will help you with ws...
Balancing Equations Practice...
We review yesterday's ws and try some more...Practice makes purr-fect!
Balancing Chemical Equations: Here is a great step by step link....
http://www.wikihow.com/Balance-Chemical-Equations
Left of the arrow are called Reactants...Right of the arrow are called Products...Know these!!
Click the following link for an easy, beginner's Balancing worksheet:
http://sciencespot.net/Media/blncact.pdf
***Here are great video links to help you further...
https://youtu.be/oDVswHfZJzY
https://youtu.be/8ARlABEfPhQ
How to Balance chemical equations...it's a math game of numbers and symbols...
***Vocab to know: 1. Coefficient
2. subscript(atoms)
3. Reactants
4. Products
All it involves is what I call 'cross multiplication of coefficients x subscripts...You cannot get it unless you practice-practice-practice...
Example:
H
2
+
O
2
→
H
2
O...
The box is a beginning way to identify where coefficients go...YOU MAY NEVER ADD OR CHANGE A SUBSCRIPT...ONLY A COEFFICIENT...
____ Na +____ I2 ® ____ NaI
***It is an invisible '1' that is always a coefficient but we NEVER write a 1-it is understood...
Below is a VERY BASIC video link to help you get started!
https://youtu.be/gskm-dfKv5g
https://youtu.be/UGf60kq_ZDI
Below is the video I showed in class...
https://youtu.be/gskm-dfKv5g
***Here is the video link from today...
https://youtu.be/bwOE1MEginA