SECOND SEMESTER:
***STUDENTS ABSENT FOR MIDTERM MUST TAKE THE EXAM THE DAY THEY RETURN TO SCHOOL
YOU MAY MAKE AN APPT. TO TAKE IT BEFORE SCHOOL ON AT 6:15 a.m SO YOU WON'T FALL BEHIND...
AFTER 10:OO A.M TUESDAY, A GRADE CHANGE WILL BE MADE...YOUR TEACHER STATES MAKE-UP TIME...
Review of Major Class/School Rules...
1. You must be in your assigned seat by the bell or you will be marked tardy...entering the room at the bell or after is considered tardy-DO NOT stay and talk with teachers placing you tardy for my class..
2. There will be no talking without permission or sidebar conversations with students
3. No cell phones are allowed in my class at any times, unless specified for a lab...Referrals will be written if phones go off or they are seen on a test.
4. Safety is paramount...Dissections and activities predispose students to accidents and never horseplay or not adhering to directions.
5. Grades will not be discussed in e-mails and ALL grades are earned...
6. You must raise your hand to ask a question-never to shout in the room as this disturbs other students requiring quiet environments.
7. Dress codes will be adhered to per school policy...
8. Cheating will result in automatic zero on assessment and referral-this includes wandering eyes, talking, and/or using cell phones or notes...
9. No eating or drinking without professional courtesy: only capped bottles, closed containers, etc...If I reward you with a snack, respect the privilege...
10. Disrespect, bullying, or defiance in my classroom will not be tolerated...All students
must earn respect and treat others as young adults in this learning environment.
11.
***Forgetting your name on any coursework/assessments will be an automatic zero-you should know the rituals and routines-name-date-pd on every paper upper right corner...since first day of school...
***This 2nd Semester will be extremely rigorous and more demanding with the remaining body systems, CPR and Dissections...Pace will be fast and ultimate study and review daily is encouraged to be successful...You MUST come to class prepared and on time!
If an 'extra' assignment is offered, like a podcast. take advantage of them...
DO NOT THROW ANY NOTES AWAY, JUST PUT THEM ASIDE AND START SEM 2!
***We are getting even more rigorous with high level content, formative and summative assessments...I recommend you increase your studying or change your study habits to be successful in this class.This web page is mandatory, with your notes and textbook for your success-Tutoring by appt every morning, pd 5 lunch C and D with permission, and some afternoons. You may never just 'pop=in to my class...Students are held accountable.
Cell phones are Never allowed in my room and will be issued a referral if they are visible-as well as writing on class desks and talking without permission! NO SIDE-BAR CONVERSATIONS TO OTHER STUDENTS... Rules are meant to be followed...
Seniors....Start preparing for Finals exemption...CRITERIA: a minimum B every quarter
Sr Finals:
***The
endocrine system
is the collection of glands that produce hormones that regulate metabolism, growth and development, tissue function, sexual function, reproduction, sleep, and mood, among other things
***These
glands
produce different types of hormones that evoke a specific response in other cells, tissues,
and
/or organs located throughout the body. The hormones reach these faraway targets using the blood stream. Like the nervous
system
, the
endocrine system
is one of your body's main communicators.
***
The
more
thyroid hormone there is in the bloodstream, the faster chemical reactions happen in the body. Thyroid hormones are
important
because they help kids' and teens' bones grow and develop, and they also play a role in the development of the brain and nervous
system
.
***
Without your endocrine glands
— and the hormones they release —
your
cells wouldn't know when to
do
important things. ...
Your
adrenal
glands
are really important to
your
body in times of trouble, like when
you
're sick or under stress.
***
The
endocrine system
, made up of all the
body's
different hormones, regulates all biological processes in the
body
from conception through adulthood
and
into old age, including the development of the brain
and
nervous
system
, the growth
and
function of the reproductive
system
, as well as the metabolism
and
blood sugar
Thursday-1/17...GO TO CH. 9-The Respiratory System...
Videos from today:
Type I... Diabetes:https://youtu.be/iUWUjRJszFM
Type II...https://youtu.be/LK5g_lEY0fE
Gestational Diabetes...https://youtu.be/65dwSWrhlFU
Turner syndrome...only 1 X chromosome, not 2...
***All students are responsible to complete any videos and ws if time runs out...They may be collected for a grade at any time and pop quizzes will be random on text readings and classwork...
***smallest endocrine gland-Pineal
***largest endocrine gland...Thyroid
***Endocrine and Exocrine gland and Digestive organ...Liver
HW: complete WS and read sec. 8.2...
***DIABETES VIDEO FROM TODAY-https://youtu.be/X9ivR4y03DE
***WS of Word search review is above-other side is the concept map below...
***Thymus Gland-anterior to the heart-it produces T lymphocytes which provides immunity...
Thymus at birth is very large and reduces gradually until barely visible as adult-KNOW THIS!!
Type 2 Diabetes
Type 1 Diabetes
***Gestational Diabetes
...Gestation-the period of time of development and delivery of baby(9 months)...some women put on much weight so become diabetic through pregnancy...they need to remove the weight after delivery to prevent permanent diabetes type II...
Monday-1/7/19.
..Planning Day...No school for students...
CH 8-Vocab: Endocrine-secretes a hormone(chemical messenger) into the bloodstream.
Exocrine-secretes into a duct to outside of your body(ex. Lacrimal glands).
Glands: structures that secrete hormones in bloodstream...
Hormones...chemical messengers...
HW
: read ch. 8.1...pages 268-274-review webpage...
***It is the students' responsibility to stay ahead with readings and this webpage for spontaneous pop-quizzes...
***Seats may be changed based on participation and behavior(s)...
Pancreas...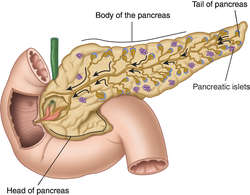 Thymus Gland...
Goiter-Hyper or Hypo-thyroidism...an Iodine(I) deficiency of the Thyroid...that is why there are 2 kinds of salt(NaCl)...Iodized and not iodized...read the label and see what you have...Surgery is recommended...
Hypo-thyroidism = Cretinism...slow, underdeveloped-mental retardation..
.